M1 or M3 iMac: Complete Comparison and Our Recommendation for Your Purchase
Intro to M1 or M3 iMac
Apple introduced the iMac with M1 on 21st May 2021, replacing the 21-inch and 27-inch Intel iMacs. This new iMac features a 24-inch display and operates on the Apple M1 chip. It marks the iMac's significant redesign since 2012, showcasing slimmer bezels, a flat back and seven colour choices—a nod to the iconic iMac G3. On 30 October 2023 during the Scary Fast event, Apple unveiled updated iMac models equipped with the Apple M3 chip, Wi-Fi 6E and Bluetooth 5.3. Orders for this new iMac commence on 30th October 2023, with availability from 7th November 2023. The improved iMac with M3 provides up to 2x faster performance compared to its M1 predecessor, featuring an 8-core CPU, up to a 10-core GPU and support for up to 24GB of unified memory.
The Iconic iMac G3 – Photo Credit to lifestyleasia
Comparison between the 24-inch M1 and M3 iMac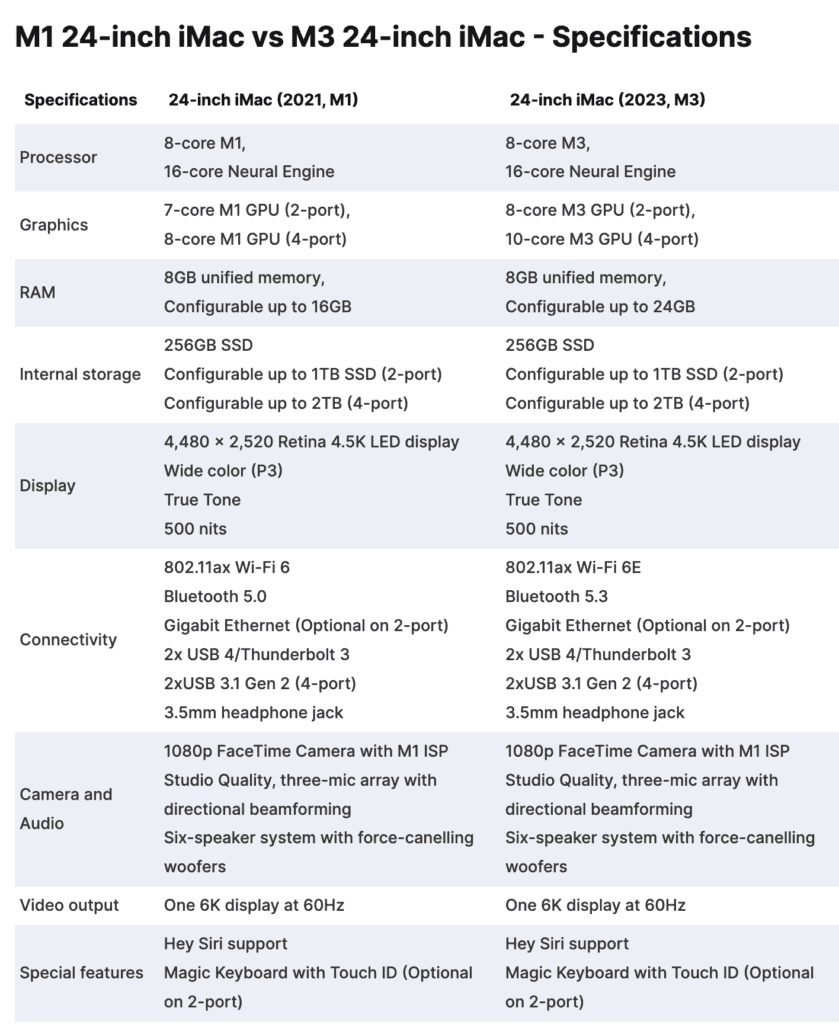 You can see that apart from the processor difference, there's little variation between the two.
Worth to Upgrade from M1 to M3?
Performance comparison between the M1 and M3 processors provided by Apple.
On paper, the M3 boasts a 50% speed increase compared to the M1. However, if you're using an M1 iMac for simple tasks such as internet browsing, paperwork and video streaming, you'll barely notice any speed improvement.
Yet, for more demanding tasks like audio and video editing, you might feel a slight difference. However, there's a caveat. If you're dealing with extensive file edits, such as lengthy video formats like 1080, 4K, or 8K, this iMac may not provide sufficient power for your work. A MacBook Pro with the M3 Max processor would be more suitable for such editing tasks.
Who should buy the new M3 iMac?
If you're currently using an Intel-based processor iMac that's over a decade old or if your current iMac has a significant issue that will incur substantial repair costs, or perhaps you simply prefer a larger screen to work with, investing in this new M3 iMac would be a logical choice.
We mention a decade or more because an iMac less than 10 years old, with suitable RAM and PCIe SSD upgrades, will only yield a marginal speed difference, possibly just in milliseconds or at most 1 second during usage, even when compared to the latest Mac with an M3 processor.
Pro Tip
If you decide to buy the new iMac, ensure you include Apple Care in your purchase for three years of peace of mind. You might question why you need to invest in an extended warranty when Apple has a strong reputation for product quality, especially for a new device. Presently, for the iMac, the Apple Care price is RM679 for an additional two years of protection. It extends the standard one-year warranty to a total of three years. Consider it this way: any repair for the iMac itself will cost more than RM679, making RM679 a relatively affordable insurance for your iMac (investment).
Here are seven pieces of advice, guides, and tips for you before purchasing your new Mac.
Conclusion to M1 or M3 iMac
If you're wondering why Apple did not release a larger screen iMac that was rumoured to be 32 inches. We think it's because Apple wants buyers to consider the Studio Display. The device boasts a 27-inch 5K Retina display and a 12MP Ultra Wide camera with Centre Stage. It also comes with studio-quality microphones and a six-speaker sound system with Spatial Audio.
The price for the Studio Display is RM6999 for the standard glass version and RM8299 for the nano-texture glass option. Please note that the Studio Display is solely a monitor designed for professional use.
Contact us
As dedicated Mac users for over 15 years, we understand the frustration and helplessness that arise when your beloved Mac computer unexpectedly breaks down. But fear not! At YP Mac, we wholeheartedly focus on addressing and resolving precisely those distressing situations!
We offer hassle-free Mac repairs, as highlighted by our tagline: "Simplify Mac repairs with us." Our commitment lies in providing convenient solutions for all your Mac-related needs.
Our skilled technicians streamline the repair process thus ensuring quick and efficient service. Trust us for a seamless experience and join our satisfied customers today.
Contact us now for any inquiries you might have or visit us at ypmac.com.my
Facebook Group
Join our dynamic Facebook group dedicated to all things Apple Mac! Connect with fellow enthusiasts, discuss the latest trends and share your insights about the world of Mac technology. Don't miss out—become a part of our community today!