M2 Pro or M2 Max: Which is better for you?
Image source from igeeksblog.com
Intro to M2 Pro or M2 Max
Earlier this year, Apple announced the launch of its new M2 Pro and M2 Max chips, which are system-on-a-chip (SoC) designs. Alongside the new chips, Apple released new 14-inch and 16-inch MacBook Pros. If you're thinking about purchasing one of these laptops, you may have doubts about which configuration best suits your needs. Both chips are very powerful, making the decision not an easy one.
The two chips appear identical when viewed from the top to the bottom of the M2 Pro… but the M2 Max is larger, continuing a bit beyond. In that new area, Apple has added a second bank of GPUs, an additional memory bus, and additional video-encoding engines. We'll compare these chips' specifications, performance, and price to help you pick the best option for your needs.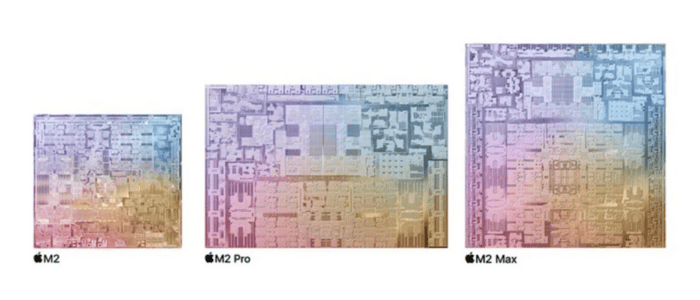 Pro Tip 1
The Pro processor can only support up to 32GB of RAM. If you need 64GB or 96GB of RAM, you should opt for the Max processor model thus this will allow you to make a straightforward decision and purchase the right option for your requirements.
Round 1: M2 Pro or M2 Max – CPU
The Pro comes with up to 12 CPU cores and 19 GPU cores, while the Max offers 12 CPU cores and up to 38 GPU cores. If you opt for the 14-inch MacBook Pro, you can get an M2 Pro with 10 CPU cores, but all 16-inch models, whether Pro or Max, have 12 CPU cores.
Both the Pro and Max are built using a second-generation 5-nanometer manufacturing technology. The M2 Pro boasts 40 billion transistors, which is twice the M2 and approximately 20% more than the M1 Pro. In comparison, the M2 Max extends its performance with 67 billion transistors, three times more than the M2 and 10 billion more than the M2 Pro, resulting in more efficient completion of complex task processing.
Apple has also improved the M2 Pro's media engine, enhancing efficiency and power conservation through hardware-accelerated H.264, HEVC, and ProRes video encoding and decoding. As a result, the MacBook Pro can now play up to 10 streams of 4K and 8K ProRes video, perform 2x smoother color grading, and render animations in Motion 20% faster.
Furthermore, the Max features two video encoding engines and two ProRes engines, doubling the video encoding speed compared to the Pro which video editors will love!
Image source from tomsguide.com
Note: Geekbench test. Higher scores are faster.
Round 2: M2 Pro or M2 Max – Graphics
There is a significant difference between the Pro and Max models in terms of their graphics cards. The Pro can be configured with either 16 or 19 cores, whereas the Max is 35% faster than the Pro and starts at 30 cores, with the option to upgrade to 38 cores.MacBook 14 inch comparision
Image source from Macworld.com
Note: Geekbench test. Higher scores are faster.
Round 3: M2 Pro or M2 Max – Battery Duration
According to Tomsguide, which conducted a test on the latest MacBook 14-inch Pro and Max models, the Pro lasted for 14 hours and 2 seconds before the battery went flat, while the Max lasted for 12 hours and 51 seconds.
Achieving anything above 10 hours of usage, especially with this level of processing power, is truly impressive!
Similarities
1️⃣ The new Apple Silicon technology in M2 Pro and M2 Max, utilizing macOS 13 Ventura, enhances battery life, offering the greatest battery life ever in a Mac. According to Apple, MacBook Pros can now deliver up to 22 hours of battery life.
2️⃣ With the inclusion of the latest Wi-Fi 6E support in M2 Pro and M2 Max, users can connect to wireless internet using a 6GHz band, resulting in faster internet surfing.
3️⃣ The 2023 MacBook Pros now support 8K external monitors at 60Hz and 4K monitors at up to 240Hz.
4️⃣ Apple emphasizes customization by introducing a color-matched USB-C to MagSafe braided cable, adding a personalized touch for users.
Conclusion to M2 Pro or M2 Max
The Pro caters to all users except the most demanding graphics-intensive ones. If you're a developer, graphic designers, music composer or someone seeking a powerful MacBook Pro for various tasks, there's no need to invest more in the Max.
On the other hand, the Max is designed for users who need additional graphics cores or a significant amount of unified memory (RAM), particularly video editors. If the speed of rendering and exporting directly impacts your effectiveness, choosing the Max is the only choice.
Side by side specifications comparison
Contact us
At YP Mac, we offer hassle-free Mac repairs thus with our tagline: "Simplify Mac Repair With Us," highlighting our commitment to providing convenient solutions for all your Mac-related needs. Our skilled technicians streamline the repair process hence ensuring quick and efficient service. Trust us for a seamless experience and join our satisfied customers today.
Contact us today for any inquiries you might have or visit us at ypmac.com.my